On Demand Car Lease & Rentals
 Renting a car in Dubai has never been easier with the on-demand car lease and rental services available at Carasti. Whether you are looking for a short term rental or a long term car hire, you will find various rental packages to suit your needs. The monthly rental option is particularly popular for those staying in Dubai for an extended period of time. The booking process is simple and hassle-free, with online booking options available for your convenience. With a rental car, you can explore the city at your own pace, without having to rely on public transport. Plus, you can enjoy the comfort and convenience of having your own transportation while staying in Dubai. So, if you're planning a trip to Dubai, consider renting a car to make the most of your experience. Click here to Browse all our cars available on special prices.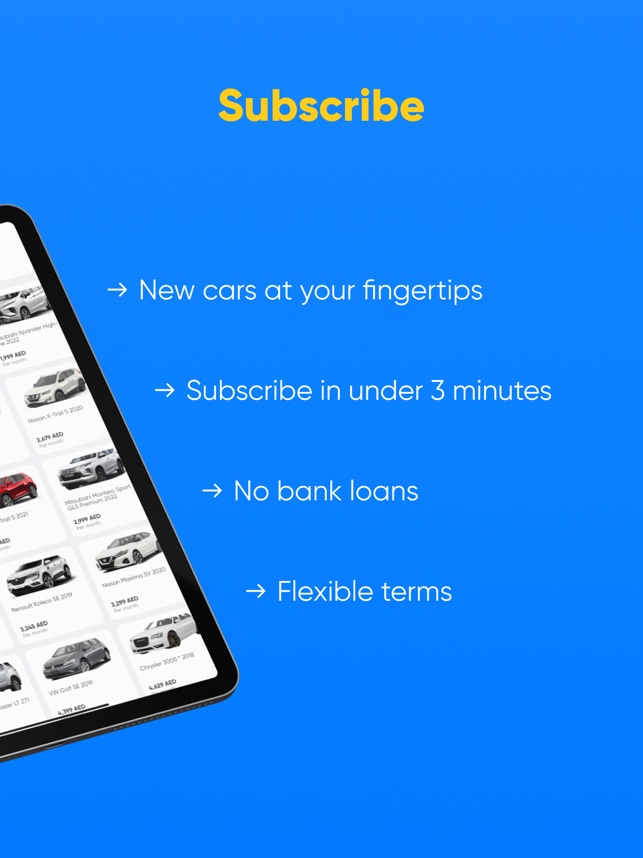 Monthly Car Rental Dubai
Renting a car in Dubai is a popular option for many residents and visitors alike. For those who require a car for an extended period, monthly car rental in Dubai is an ideal solution. With a variety of car rental companies offering monthly rental options, customers can choose the best monthly car that suits their needs and budget. Whether for personal or business use, a car in Dubai monthly rental provides the convenience of having your own vehicle without the commitment of owning one. Monthly rent a car options also come with various benefits such as free maintenance, regular inspections, and flexible payment options. So if you are in need of a car for a month or more, consider monthly car rental in Dubai as a smart and cost-effective choice. You can reach out to our team at Carasti once you choose to rent by just providing a copy of your driving license in our App which we would highly recommend and you will get a seamless experience of renting a car compared to other companies in dubai.
Long-Term Car Rental in Dubai
Long term car rental is a popular option in Dubai for individuals who require a vehicle for a more than a month period. This option caters to those residing in Dubai for an extended period or for those who want to save on expenses instead of buying a car. With long-term rental, one can choose a car of their choice and lease it for an extended period. This option is popular among tourists and expatriates who wish to explore the city's sights and landmarks within their own schedule. Long term rent a car Dubai offers several advantages such as lower costs compared to purchasing a new vehicle, the flexibility to choose the vehicle of your choice, and lower maintenance and repair costs. It is the perfect solution for those looking for a temporary car solution to reach their desired destination in UAE driving. Carasti can offer you a replacement car incase of any breakdowns, in case of an accident or other issues around the UAE which is why we are known as one of the best rental car in dubai and UAE. Our wide range of rental vehicles makes it super convenient to rent a car from us 24 hours a day, 365 days a year. By just spending few minutes, you can now have your favorite vehicle delivered right at your doorstep or you can pick up the rental car as well. If you also wish to extend your rental period at anytime, you can contact our customer service within the app or over phone and they will be at your assistance immediately.
Monthly car rental in UAE
Monthly car rental in the UAE offers affordable, flexible & cheapest prices deals for people who need to rent a car for longer periods. Monthly car hire options provide the convenience of owning a car without any long-term commitment. Our best Monthly car rental offers & packages offer a variety of vehicles to choose from, so renters can select the car that best suits their needs. Dubai and Abu Dhabi are among the top tourist destinations in the world and renting a car in these cities is essential for easy and comfortable travel. Sharjah also offers a wide range of cheap car rental deals, making it easy for tourists to explore the city and its surroundings. Overall, monthly car rental plans in the UAE is a cost-effective solution for individuals who need a car for a longer duration. You can easily lease a car on monthly basis on Our Carasti App with our special hire a car plans designed to suit your budget and requirements at anytime at any emirate within UAE. Our booking process is easy from the app and you will never have to worry about maintenance as all our cars are well-maintained and checked for hygiene before handing it out to our customers. Our professional team ensure to offer you the best after sales service and support from the time of your booking confirmation until it has been been given back to us.
Select Booking Type
When selecting a booking type for a rental car, there are various options depending on individual needs and preferences. For those who need a car for a longer period like a month or more, the best choice would be monthly car rental packages that offer better rates and flexibility. Reliable rental companies often offer various options to choose from such as economy, premium, and sports cars. Premium cars are ideal for those who want to travel in style and with maximum comfort. On the other hand, if you want to save some money on transportation and still have quality performance, an economy car is your best bet. For individuals who need a car for a more extended period, leasing would be an excellent option, as it provides better long-term deals. Rent a car deals are also a common selection for individuals who need a car for a few days. Whatever the choice, finding the right rental car type involves considering individual needs, budget, and preferences. With our easy booking app available on IOS and Android you can drive the car across Dubai, Abu Dhabi or emirates in no time as booking takes less than 5 minutes. Carasti Offers all type of car from our rental inventory to ensure you have the best and safest drive possible across the UAE. 
How much does it cost to rent a car in Dubai per month?
The cost of renting a car in Dubai per month can vary depending on several factors such as the car model, rental agency, rental duration, etc. On average, the cost of renting a compact car in Dubai per month starts from AED 1200 ($326 USD) and can go up to AED 3000 ($816 USD) for a luxury car. You can Check in our Carasti App for all kinds of cars as per your budget.
Where can I long-term lease a car in Dubai?
At Carasti, we offer long term lease of your car as well with the most flexible plans and budget friendly prices. You can download our app or get in touch with us to discuss how many months you require so we can offer you customized deals based on your needs.
How much does it cost to rent a car in Dubai?
The cost of renting a car in Dubai can vary based on several factors such as the car model, rental agency, rental duration, etc. On average, the cost of renting a compact car in Dubai starts from AED 60 ($16 USD) per day and can go up to AED 1000 ($272 USD) per day for a luxury car.
What is car leasing in Dubai?
Car leasing in Dubai is a long-term rental agreement between a customer and a rental company, where the customer pays a monthly fee to use a car for a specific period, usually ranging from a few months to a few years. The rental company is responsible for the maintenance, insurance, and other expenses related to the car such as Carasti.
Is it cheaper to rent a car at the airport in Dubai?
Renting a car at the airport in Dubai can be convenient, but it may not always be the cheapest option. Rental companies located off-airport may offer lower rates due to lower overhead costs, but you may have to arrange for transportation to their location. It's always best to compare prices from different rental companies to find the best deal for your needs. You can download our app and compare prices for different cars as well based on your requirements.